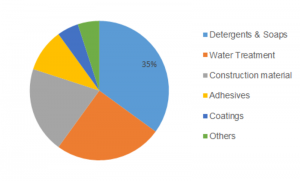 Sodium silicate is manufactured using silica sand and sodium carbonate as raw material. It finds application in detergents & soaps, adhesives, coating, construction material, water treatment, and others. Sodium silicate is widely used in detergents & soaps due to its ability to maintain the pH value of the detergent's solution on dilution. Thus, it is increasingly used in detergents for washing dishes, dairy equipment, and textile processing, laundering, and de-inking paper.
Global Key Players and Competition Analysis
Some of the key players in the global sodium silicate market are PQ Corporation (U.S.), Evonik Industries (Germany), BASF SE (Germany), W.R. Grace & Company (U.S.), Ciech S.A. (Poland), Silmaco NV (Belgium), Oriental Silicas Corporation (Taiwan), Aromachimie Ltd. (UK), Nippon Chemical Industrial CO., LTD. (Japan), Solvay (Belgium), Occidental Petroleum Corporation (U.S.), and PPG Industries, Inc. (U.S.).
Get the PDF brochure of this market insight: @ https://www.marketresearchfuture.com/sample_request/5846
Segmentation Analysis
The global sodium silicate market is segmented by applications, end-use industry, and region. On the basis of the application, the Global Sodium Silicate Market is divided into detergents & soaps, water treatment, adhesives, construction material, coating, and others. Based on the end-use industry the global aluminum honeycomb market is segmented into building & construction, paper & pulp, chemicals, healthcare, food & beverages, and others. Geographically, the market is divided into Asia Pacific, North America, Europe, Latin America, and the Middle East & Africa.
Regional Analysis
North American market is growing due to the increasing investment in residential buildings as a result of the small business tax cut and increasing consumer spending. According to the Commerce Department, the construction industry in the U.S. has grown by 2.5% in 2017. Rising investment in the water treatment plants is stimulating the product demand. For instance, Nereda, a wastewater treatment plant has introduced new technology "Aerobic Granular Sludge "for sustainable purification of municipal and industrial water.
Market Scope
Growing demand from the textile industry for synthetic detergents, wetting agents, and soaps are driving the market growth. Growing paper industry as a result of increasing use of paper towels, tissue paper, and the corrugated board is driving the market growth. Furthermore, rising health awareness among the consumers coupled with increasing per capita income is propelling the growth of sodium silicate.
Browse the market data and information spread across 100 pages with 33 data tables and 12 figures of the report "Sodium Silicate Market Research Report Forecast to 2023 " in-depth alongside table of content (TOC) at: https://www.marketresearchfuture.com/reports/sodium-silicate-market-5846
Industry News:
April 16, 2018 Market Research Future Published a Half-Cooked Research Report on Global Sodium Silicate Research Report.
About Market Research Future:
At Market Research Future (MRFR), we enable our customers to unravel the complexity of various industries through our Cooked Research Report (CRR), Half-Cooked Research Reports (HCRR), & Consulting Services.
To stay updated with technology and work process of the industry, MRFR often plans & conducts meet with the industry experts and industrial visits for its research analyst members.
Contact:
Market Research Future
Phone: +16468459312
Email: sales@marketresearchfuture.com