Polyphenylene sulfide (PPS) is an organic polymer consisting of aromatic rings linked with sulfides. The distinguished properties of PPS such as flame retardant, chemical resistant, corrosion resistant, dimensional stability, and low moisture absorption are responsible for substitution of heavy metals, mainly required in major end-use industries such as automotive and aerospace.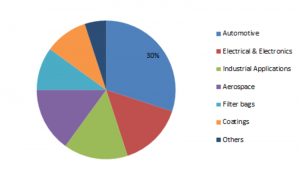 Global Key Players and Competition Analysis
Some of the key players in the global polyphenylene sulfide market are Tosoh Corporation (Japan), TORAY INDUSTRIES, INC. (Japan), Celanese Corporation (U.S), SK Chemicals (South Korea), Solvay (Belgium), KUREHA CORPORATION (Japan), Polyplastics Co., Ltd. (Japan), DIC CORPORATION (Japan), Chevron Phillips Chemical Company (U.S), Haohua Honghe Chemical Co., Ltd. (China), Kotec Corporation (Japan), TEIJIN LIMITED (Japan), NHU Materials Co. (China), SABIC (Saudi Arabia), and Aetna Plastics Corp. (U.S).
Get the PDF brochure of this market insight: @ https://www.marketresearchfuture.com/sample_request/5642
Segmentation Analysis
The global polyphenylene sulfide market is segmented based on type, applications, and region. Commercially, the PPS is manufactured in two types: virgin and recycled. The virgin type PPS is costly and contains lesser impurities and environmental risks as compared to the recycled type. Based on the application, the market is segmented into automotive, electrical & electronics, filter bags, industrial applications, aerospace, coatings, and others.
Regional Analysis
The global Polyphenylene Sulfide Market is spanned across five key regions namely Asia Pacific, Europe, Latin America, North America, and the Middle East & Africa. The Asia Pacific is anticipated to show a considerable growth due to the presence of many automotive, electrical & electronics, and coating sectors in India, China, and Japan. The presence of automotive manufacturing bases such as Honda, Nissan, and Toyota coupled with increasing demands for sedans and SUVs are projected fuel the market growth in this region.
Market Scope
The growing product development for applications such as cooking appliances, hair dryer components, and others has positively favored the market growth. The filter bag produced using PPS is one of the best filter materials available, which is used in thermal, steel, iron, chemical plants, and others.
Browse the market data and information spread across 140 pages with 33 data tables and 12 figures of the report "Polyphenylene Sulfide Market Research Report- Forecast to 2023" in-depth alongside table of content (TOC) at: https://www.marketresearchfuture.com/reports/polyphenylene-sulfide-market-5642
Industry News:
March 08, 2018 Published a Half-Cooked Research Report on Global Polyphenylene Sulfide Market.
About Market Research Future:
At Market Research Future (MRFR), we enable our customers to unravel the complexity of various industries through our Cooked Research Report (CRR), Half-Cooked Research Reports (HCRR), & Consulting Services.
To stay updated with technology and work process of the industry, MRFR often plans & conducts meet with the industry experts and industrial visits for its research analyst members.
Contact:
Market Research Future
Phone: +16468459312
Email: sales@marketresearchfuture.com